TOOLS
(Note that this site is developing responsively according to questions asked and issues raised by members of the public on our outreach stall. If you have any comments to add regarding the subjects and quality of information shared on this site please get in touch via the address on the contact page.)
Some links to external sites for things which have come up in conversations recently.
The Lammas eco village      www.lammas.org.uk
The One Planet Council, supporting applications and empower communities for Welsh TAN6 policy process www.oneplanetcouncil.org.uk
The Land Magazine http://www.thelandmagazine.org.uk/
The Bioregional Footprint Calculator (under revision, but this old version still works) http://calculator.bioregional.com/
Community Land Trusts; a new form of land tenure for affordable homes  http://www.communitylandtrusts.org.uk/home
Tony Wrench and his highly influential roundhouse http://www.thatroundhouse.info/
Barbara Jones and Straw Bale building  http://www.strawworks.co.uk/barbara-jones/
Simon Dale, building with roundwood www.simondale.net
This is place to find tools which may be useful, from legal papers to gardening tips; links to other organisations with similar values or other items to
delight, inform and inspire.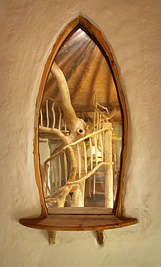 This is a detail from Charlie and Meg's roundhouse.
https://www.facebook.com/pages/Charlie-and-Megs-Roundhouse/143456382471743